Hii Guys! Welcome to my stop on the Kingdom Cold Blog Tour organized by the amazing Shealea ( Shut Up, Shealea) and Caffeine Book Tours.
Synopsis: Attempted murder, that's how sixteen-year-old Princess Charlotte's engagement starts. It seems like the only thing she has in common with Prince Young of Vires is their mutual discontent.
When her kingdom's attacked, Charlotte's parents renegotiate her hand in marriage to a handsome stranger with a sinister plan. With the people Charlotte loves dying around her, and her kingdom's future at stake, the only person she can turn to is the prince she betrayed. But, should she save her kingdom or her heart?
One must fall.
Author: Brittni Chenelle
Publisher: Self-published
Publication date: 14 February 2019
Genres: Young Adult, Fantasy
Book Links: Goodreads || Amazon 
Ratings: 3/5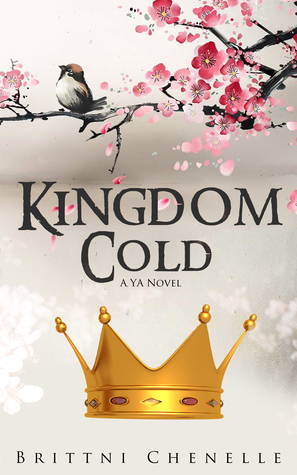 REVIEW
Kingdom Cold was a fun read with lots of great characters and a solid plotline. It was the kind of book with lots of unexpected turns and it keeps you engaged. There was a lot of drama as one would expect when a book starts with a murder. It was an enjoyable read and the fast pace really made it more fun for me.
I really liked Charlotte's character. She was fiesty and she made the book become a lot more interesting with her dynamics with all the characters. There was also political intrigue in some parts. I was not very fond of Prince Young's character as according to me it was not much explored and I hoped to have read more of his character.
Overall, it was a decent book with good world building and I guess it could have been better but for a fun and past faced read, Kingdom Cold is a good book.
EXCERPT 
My gaze met his, and I searched for the horror I felt, in his dark eyes, but couldn't find it. I glanced over the gentle lines of his expression and drank in the easiness of his parted lips. He exhaled relief and I felt the sudden pull of my body towards him as I breathed it in. I couldn't discern how he could look upon me, with such reprieve, then I took a step forward. And another. He was my cage, my captor, the death of my freedom, but in one kind glance, in my darkest hour, he granted me a modicum of comfort.
I ran to him and threw myself into his arms. I didn't care that he didn't embrace me. I didn't care that his body tightened with discomfort. He was alive and, to me, that meant that my father could be too.
ABOUT THE AUTHOR
Brittni Chenelle currently lives in Seoul, Korea which inspires her multicultural fantasy books. Her favorite genres to read and write are young adult fantasy, young adult romance, fairytale retellings, and young adult dystopian novels. She's very passionate about equal representation and makes a point to include characters from different backgrounds and cultures in her fantasy stories. Here are five fun facts about Brittni:
She lives in South Korea. It's true. She does most of her updates in the morning or at night to account for the time difference. She also infuses most of her novels with her observations about Korean culture.

She's a Type 1 Diabetic. She uses an insulin pump for survival and refers to her diabetes as "Beetie" which is what inspired her children's book "Life with Beetie". When she wants something from her parents she tells them, "My Beetie hurts." It's a trick that has never failed her.

She doesn't really BELIEVE in fiction. Despite all the; Dragons, Elves, and Magic present in her novel "Involuted the Tale of the Red Ribbon Tree", Brittni INSISTS that it's a true story.

She's OBSESSED with dark chocolate. She made me put that in and would also like me to inform you (on an unrelated note) that her birthday is in May.

Sorry guys, she's married. If you ask her, she'll tell you her husband saved her life but every time someone asks "how?" she gives a different reason. I've overheard her give about 4 different reasons, but I bet she has more. He must be an amazing guy.
Links: Website || Blog || Goodreads || Instagram || Facebook || Twitter
Check out the other stops on the Blog Tour:
Until Next Time, HAPPY READING FOLKS!!